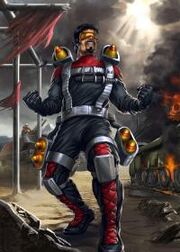 Section heading
Edit
New Event starts tonight (8/5/13 at 5pm Pacific time)
Section heading
Edit
Latest G.I. Joe: Battleground Event - The Dreadnok Trials starts tonight!
They gave us a few days to recover, but DeNA is back on the G.I. Joe: Battleground Events bandwagon tonight with the new Battle Simulator! Fans who have been playing for a little while got some exposure to the Battle Simulator with the event that gave us Pathfinder, Barricade, and Tunnel Rat a short few weeks ago. Well, we're at it again, this time with the Dreadnoks! 
Featuring the Battleground debut of Road Pig, Zanzibar, and Burn Out, and introducing exclusive card Metalhead! Looks like another fun ride, expected to start tonight around 5:00pm Pacific. The full release can be seen below along with sneak previews of Road Pig and Metalhead. G.I. JOE: BATTLEGROUND, an action card-battle mobile game based on the original G.I. JOE universe, is launching a new in-game event today called Battle Simulator – The Dreadnok Trials. Who: DeNA and HASBRO are excited to bring Battle Simulator – The Dreadnok Trials event to G.I. JOE: BATTLEGROUND. What: The Battle Simulator is online again and this time around, the JOES have control of the Battle Simulator. JOE Squads from around the world are in for a tough challenge with a Dreadnok program that introduces some mean customers including Road Pig, Burn Out and Zanzibar. These anarchists are going to go all-out on JOE Squads, so bring your "A" game if you want to make it through the truly lethal top floors of this Battle Simulator. Top players will earn the hyperactive and deadly accurate Metal Head to add to their COBRA Squads. When: Battle Simulator – The Dreadnok Trials event premieres today, Monday, August 5 through Monday, August 12. How: Download G.I. JOE: BATTLEGROUND for iPhone, iPad, iPod touch and Android devices for free at: Mobage | G.I. JOE: BATTLEGROUND
Ad blocker interference detected!
Wikia is a free-to-use site that makes money from advertising. We have a modified experience for viewers using ad blockers

Wikia is not accessible if you've made further modifications. Remove the custom ad blocker rule(s) and the page will load as expected.